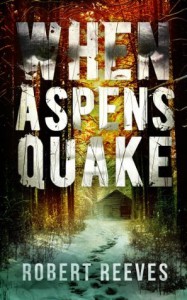 When Aspens Quake
is a perfect follow up to [b:The Trees Beyond the Grass|18290694|The Trees Beyond the Grass|Robert Reeves|https://d.gr-assets.com/books/1375735644s/18290694.jpg|25771651]
Attention, plot spoilers ahead for those who haven't read the previous book.
Cole has a new job, a new house and a long distance relationship to deal with but above all he is struggling to adjust to his new life as a foster parent; emotions long kept hidden are resurfacing.
His wall was failing and its weakness frustrated him in these moments of feeling sad. He just wanted to be cold again
But his past is still haunting him:
the taker
has targeted him, and Cole's precarious balance is in danger.
The improvement in this book is undeniable: more romance, a lot of action, awesome side characters, less "travel guide" moments and even a few funny flashes. Loved it.
This is "my" Cole
And here I am, once again..
I'm looking forward to book three, Blood Pines. Can't wait………!!